Goodys Pita Pita
I just had a Pita Pita lunch today at 1:30 pm in an Athenian Northern Municipality.
The total cost was 3 euro and 80 cents and included the Pita Souvlaki, fries (pre cooked) and a small coke.
The pita comes with either pork gyro or spicy soutzouki in either tzatziki or mustard dressing with all included (onions, tomato etc...)
The meal wasn't bad although not that filling.
The Pita leaves much to be desired since it basically falls apart when you eat it, sort of like wet paper and the taste leaves a sense of plasticness - sort of fast foodish of fast food- if you know what I mean. Also, the gyro is more in the form of gyro sharpnel rather than chunks of the product leaving you with a general state of hunger...sort of an airy type of product.
In addition, the fact that the souvlaki contains fries, and you also get additional fries sortof gives a sense of dietary overkill.
The overall presentation of the product is quite good but I would not worry if I were a Souvlaki store since a typical souvlaki all dressed is a meal in itself and doesn't require the extra french fry serving...
Pricewise a Souvlaki and Coke comes cheaper than the Goodys Pita Pita offering.
On the other hand the Goodys brand, the strongest (and well deserved since its products are both innovative, well designed, and cater to local tastes ) in the area when it comes to fast food, guarantees that you eat food that adheres to some sort of quality control ; something that may not apply to your quintessential Souvlaki joint.
So as a summary, I don't think Goodys Pita Pita matches by a long shot a traditional Souvlaki, and the price I consider as expensive in the bundled offering (Pita Pita, French Fries and Coke) if I consider the fact that I can get a wholesome Souvlaki and a Coke that's tastier and more filling at a cheaper price.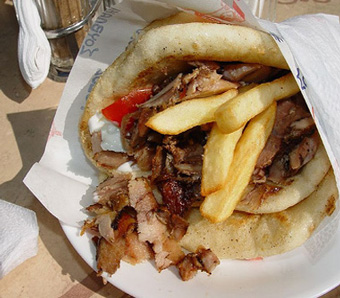 Traditional Souvlaki